ROOM REVEAL // MODERN TROPICAL MIAMI CONDO
MODERN TROPICAL MIAMI CONDO
I teamed up with Sonder once again to fully decorate a vacation rental located in a hip Miami neighborhood. I worked on a few of these condos and it was so much fun infusing bright colors, graphic patterns and tropical vibes into each of them! You know I love moody jewel tones and vintage portraits but that aesthetic definitely would not have fit with this location! Since this is a vacation rental everything is very affordable and the pieces were chosen to give you the most bang for your buck. Lucky for you I am sharing my source list for this Miami apartment!
Here is what I was working with:
MODERN TROPICAL APARTMENT DESIGN PLAN
As you can see it was literally a blank slate - bright, crisp white walls and neutral flooring. Similar to all of my E-Design clients, I started the project with a Design Plan layering the new furniture and accessories so it's easy to see how the pieces work with one another. Next I created a detailed Shopping List (down to coffee table books) and a Floorplan outlining what pieces go where. Since I used quite a few patterns and bright hues, I kept the color palette very similar throughout the rooms so the entire condo design would feel cohesive.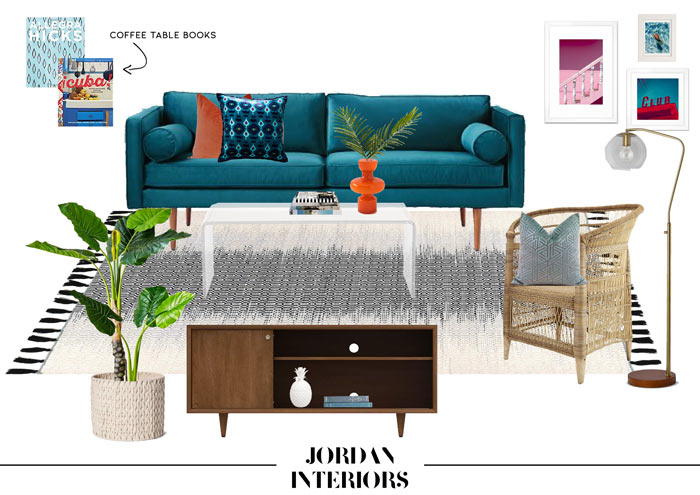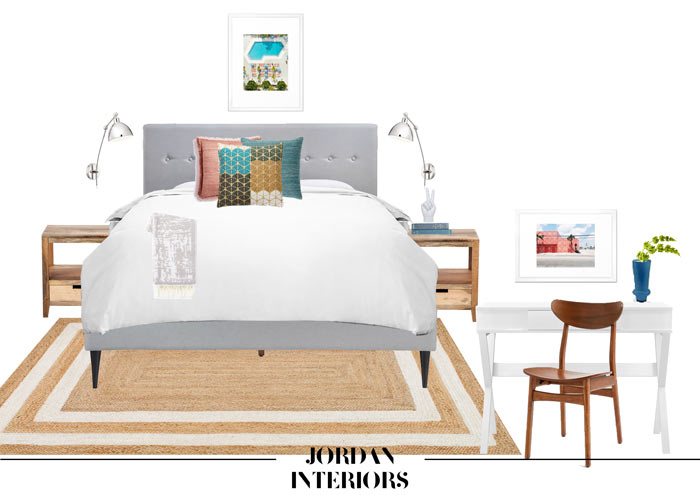 MODERN TROPICAL APARTMENT REVEAL
Here is the finished product! There were a few changes from concept to installation, but most of the original pieces were still used. Shop the look after the photos!
PINK ART // PINEAPPLE ART // CLUB ART // BLUE PILLOW // FLORAL PILLOW // COUCH // LAMP // RUG // VASE // CHAIR
Want to learn more about the Midcentury Modern look and how it works with your style? Take my Style Quiz to find out your Unique Style Mix HERE and get the lowdown on decor recommendations + shopping resources!
Searching for that perfect Modern Tropical piece but need a little help? No worries, I have you covered! Check out my E-Design Services and let's work together!
*Disclaimer: Some affiliate links were used in this post, which means Jordan Interiors earns a small commission from your purchase at no cost to you.